Canadian Medicine has a new online book group called Literary Physicians. Visit our page on the social networking site for book lovers, Shelfari, to check out our medical fiction and non-fiction library.

Why do doctors write?
Anton Chekhov, Arthur Conan Doyle, W Someset Maugham (right), William Carlos Williams were all medical men who sought and found fame and glory through their writing.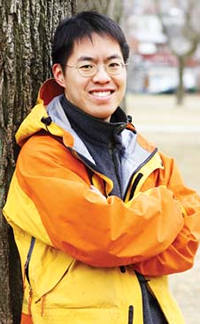 Today, Michael Crichton, Robin Cook, Vincent Lam (left) and Kevin Patterson carry on the tradition. Increasingly, medical men (doctor-writers are still primarily male) are turning to journalism, with writers like Jerome Groopman and Oliver Sacks dominating the pages of the New York Times and the New Yorker, feeding a new insatiable public interest in all things medical. And even more recently, doctors have taken to blogging - that most democratic of forums - as an outlet for their writerly urges.

Our new book group, Literary Physicians, explores the question, "What makes doctors write?"

(For a backgrounder, check out Freakonomics' and the New York Times' ruminations on the topic.)

Our first discussion: Should doctors stick to what they know and write only about medicine? Join the discussion here.

Here's a list of a few of the doctor writers we've profiled in the past in the National Review of Medicine:

Dr Kevin Patterson: The former soldier, MD and novelist from British Columbia got himself in some hot water when he wrote an article about a soldier's death in Afghanistan for an American magazine.

Dr Vincent Lam: The Toronto emerg doc hit the Can-Lit bigtime when his book, Bloodletting and Other Cures, won Canada's top literary prize, the Giller. Margaret Atwood loved it.

Dr Alison Sinclair: An encounter with sci-fi classic Day of the Triffids turned this aspiring MD into an aspiring sci-fi writer.

Dr Peter Steele: Surgeon-cum mountaineer-cum writer was mentored by the famous mountaineer Alfred Noyes and settled down in Whitehorse to write books about mountains.

Visit our Shelfari page for more medical books we like.

Check out our website: www.nationalreviewofmedicine.com