Chaoulli strikes back at coroner
At a press conference in Montreal this morning, Dr Jacques Chaoulli (pictured left) rejected coroner Catherine Rudel-Tessier's recent accusations that he had acted improperly in the case of a man who died in the waiting room of a hybrid-public/private urgent-care clinic last year.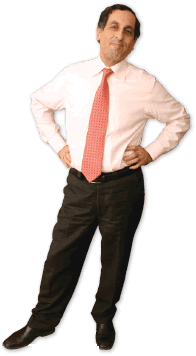 Dr Chaoulli's press conference was announced to the media yesterday with the unsubtle title "Coroner Rudel-Tessier is Wrong."

The coroner's report, released to the public in April, criticized Dr Chaoulli for not attempting emergency resuscitation on Jean-Jacques Sauvageau after he slumped over in his waiting-room chair, as Canadian Medicine reported last month.

Today, Dr Chaoulli said that conclusion was incorrect. "It is not true that a doctor should start resuscitation procedures on a person presenting all the signs of unquestionable death, a corpse."

Ms Rudel-Tessier and her expert witness, Dr Colette Lachaîne, falsely asserted that doctors should attempt resuscitation up to three hours following cardiorespiratory arrest except in extreme circumstances, Dr Chaoulli said. That regulation applies to police and paramedics, he said -- not to doctors.

"I did not kill him," he told Montreal Gazette reporter Charlie Fidelman, despite the fact that he has been accused of no such thing and despite the fact the coroner's report alleged that although Dr Chaoulli should have attempted resuscitation Mr Sauvageau would have died anyway.

Dr Chaoulli accused Ms Rudel-Tessier of impugning his character and unfairly damaging his reputation. "It's clear that, when you're attacked and accused, and in an unjustified way, in every news source, it's clear that damages the image and reputation of the person."

He admitted he should not have left Mr Sauvageau's dead body in the waiting room with the rest of the patients. "But you know, it's always easy to say that afterwards, but it's certainly a lesson I've learned."

In a news release, Dr Chaoulli explained what he believes to be the appropriate response to the death of Mr Sauvageau death, who should have been cared for immediately. "This situation illustrates the need to have all walk-in medical clinics offer the services of a dedicated triage nurse in order to prevent such unfortunate events from occurring again in the future."

Dr Chaoulli's recommendation goes even further than what is likely to be adopted as policy by the Collège des médecins du Québec in response to the coroner's report. Canadian Medicine learned last month that the Collège was considering requiring urgent-care clinics to compel all their doctors and nurses to get CPR training and to keep a defibrillator on hand.

Dr Chaoulli remains under investigation by the Collège to determine whether he acted properly during the Sauvageau incident.

H1N1 flu news update
Yesterday afternoon's Public Health Agency of Canada update counted 165 confirmed cases of H1N1 flu across Canada, with the vast majority found in BC, Alberta, Nova Scotia and Ontario. Today's PHAC numbers aren't out yet, but already we know Ontario has identified 13 more cases. So far, however, all cases have been mild and zero Canadians have died of the disease.

Canadian scientists in Winnipeg became the first in the world to sequence the flu's genes, Health Minister Leona Aglukkaq and chief public health officer Dr David Butler-Jones announced today. "The world's knowledge of the H1N1 flu virus has taken a significant step forward thanks to the excellent work done at Canada's National Microbiology Laboratory," said Ms Aglukkaq. [PHAC news release] [Globe and Mail]

In China, 27 University of Montreal students were quarantined on Saturday even though none showed any signs of the H1N1 flu. The students' quarantine will end tomorrow morning and they will be permitted to travel to Changchun to take language classes. [Canadian Press]

The University of Guelph was the benefactor of some lucky timing in its announcement of the opening of a new Center for Public Health and Zoonoses. [U of Guelph news release] Coming as it did during a time of global panic over a disease thought to have been initially transmitted from pigs to humans, the school's announcement received more attention than it probably otherwise would have. [Guelph Mercury]

Ontario Medical Association's new prez
The OMA has a new president, Dr Suzanne Strasberg.

Dr Strasberg, a family doctor in Toronto, has set out five areas she'd like to work on during her presidency:
1. Focusing funding on the patient;
2. Promoting a healthy lifestyle for all Ontarians;
3. Working with the government to determine and minimize the impact of the Harmonized Sales Tax (HST) on physicians;
4. Ensuring adequate physician input into local health care decision making; and
5. IT and eHealth
In 2007, Dr Strasberg co-authored an op/ed in The Globe and Mail to defend a Canadian Medical Association proposal called Medicare Plus, which called for greater freedom for doctors to practise in the public and private sectors at the same time, among other things. [Canadian Medicine]

Last year Dr Strasberg had a high-profile disagreement with the Coalition of Family Physicians of Ontario (COFP) when she and several other physicians criticized the group (which had endorsed her candidacy for the OMA board of directors) for being "misleading and inaccurate" in its advocacy for a "no" vote against the most recent collective agreement between the OMA and the Ontario government. [Canadian Medicine] The agreement was approved by over 79% of doctors who voted. [Canadian Medicine]

Dr Strasberg's first public announcement was a call for reforms that will ensure every Ontario resident has a family doctor. [OMA news release]

"I am looking forward to working with Dr. Suzanne Strasberg and to continuing to develop the vital relationship I have with the OMA," said Ontario Health Minister David Caplan. "I would also like to thank the Association's outgoing president Dr. Ken Arnold for his leadership during a crucial year in the partnership between doctors and our government."

If Mr Caplan and Dr Strasberg can indeed develop a working partnership, it will be a major improvement over the animus that existed for years in Ontario between Mr Caplan's predecessor, George Smitherman, and the province's medical community.

Sékaly to leave for the US
One of the country's most accomplished HIV/AIDS researchers, University of Montreal's Rafick-Pierre Sékaly, has been lured away from Canada by a Florida research institute. "The offer was the dream of any scientist," he said. "I'd have been crazy not to take it." More than half of his staff of 40 researchers will leave Montreal with him. [Montreal Gazette]

Dr Sékaly and other researchers bemoaned Canada's inability to provide the same sort of funding for scientific research that the United States can. According to CBC News, Dr Sékaly will have a research budget in Flordia that's twice as large as his budget was in Montreal. [CBC News]

Lessons in euthanasia
Australian physician Philip Nitschke gave a workshop on euthanasia to nearly 100 people in England. [BBC News]

Read PE online
The May issue of Parkhurst Exchange is in the mail now, but there's no need to wait until the hard copy arrives: check it out online here.



Get Canadian Medicine news by email or in an RSS reader